Mit Woods of Desolation und Grey Waters hat D. zwei Projekte erschaffen, die beide auf ihre eigene Weise beeindrucken und den Hörer fesseln. Nicht umsonst bezeichnen viele Woods of Desolation als das "Weiterleben" von Austere, auch wenn die Personen dahinter nicht die selben sind. Fast von der anderen Seite der Welt, aus Australien, gibt uns D. einen kurzen Einblick in seine Musikalische Welt. Danke an Morian für die Hilfe beim Übersetzen und danke an Tobi für weitere Anregungen zu den Fragen.
Thyrm: Hello D.! I hope all is well over in Australia?
D.
:
Hello. Things are fine at the moment.
Thyrm: With your newest album "Torn Beyond Reason" you have really released a Depressive Black Metal masterpiece! The album sounds very painful and sad, however it seems warm and comfortable aswell. Would you agree and what is it that you want to express with this album?
D.
:
Thanks for the words. I would agree that there are varying shades of feeling throught out, it is most certainly not just "depressive" - which I believe would just result in a boring release. However, I can't really say I aimed to express or convey anything specifically with this album, it is just the culmination of a years worth of honest writing/thoughts.
Thyrm: Honestly, I am not very familiar with the australian (Black) Metal scene except for Woods of Desolation, Austere and your second project: "Grey Waters". Can you tell us something about the australian Metal scene?
D.
:
To be honest, I don't really pay much attention anymore to the metal scene here, so I'm not sure what I can say here. I guess it's like any scene anywhere in the world, you have some good bands as well as plenty of shit bands.
Thyrm: There are a lot of "DSBM" bands nowadays. Why do you think this subgenre of Black Metal is so popular nowadays? Are there any bands of this subgenre that have inspired you?
D.:
I actually think this DSBM shit is on the decline now, and not really that popular anymore. I can not think of any DSBM bands, or any bands for that matter, that inspire me. I don't mean that in an arrogent way, but my inspiration is found through my own life experience(s), not someone else's music/ideas.
Thyrm: Your second project "Grey Waters", is more Rock orientated compared to Woods of Desolation. It however contains a lot of those sad and depressive elements as used in WoD. What inspired you to start "Grey Waters" ?
D.
:
Grey Waters was a band that formed not long after WoD in 2006, it was something that just naturally occured of it's own will, and evolved in what it is today. There was never a concious decision to form a more rock based band.
Thyrm: I've read Woods of Desolation aswell as Grey Waters will not be performed live. Is there a reason behind this? What do you think of the efficiency of this kind of music in a live set?
D.
:
Actually there were plans to perform Grey Waters live and started to actually have shows booked but it fell apart for various reasons, which I don't really care about. Playing live is not a high priority for me at all, as all too often I am disapointed with bands in a live setting. I'd rather not perform live then fall into this category.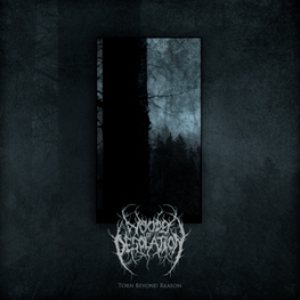 Albumcover: Torn Beyond Reason
Thyrm: The production of your newest record sounds a lot more professional compared to your earlier releases. Was the raw production of your earlier records intentional or was it lack of money and/or recording equipment?
D.
:
Lack of recording equipment, self-recording knowledge and oppurtunity to use a studio. I've never intentionally tried to make my music raw.
Thyrm: You don't seem to be big on merchandise either. Will this change in the future or will it stay the way it is?
D.
:
There have been a couple of shirts released, which are now sold out. I'd like to have some merch available for sure, it's just a matter of getting a good design worthy of pressing etc etc.
Thyrm: Last but not least some smaller questions:

- If you had to choose three favourite records, which would they be?
D.
:
Impossible to say; but Nirvana would definitely be mentioned.
-
What type of food would you consider typically "australian"?
D.
:
Koala.
-
Do you like your fellow countryman AC/DC?
D.
:
Never really been a fan.
Thyrm: Thanks a lot for your time! The last words are yours.
D.:
Thanks for the interview. For those interested contact can be made via the following avenues:
woodsofdesolation@hotmail.com
www.myspace.com/woodsofdesolation
www.facebook.com/pages/Woods-of-Desolati...169396779759552
( Thyrm -
www.ginnungagapmetal.de
)